Overview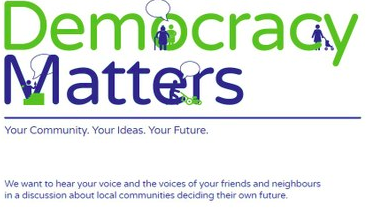 The way we live our lives is constantly changing; just think of all the changes that have happened in your lifetime. Democracy is changing too. It used to be that most citizens were content to cast their vote and then leave the decisions to others. Increasingly people want to share in making those decisions, or at least have a greater understanding as to why certain decisions have been made on their behalf. In order to make democracy work better for everyone, and especially for those who feel left out, we are asking people all over Scotland to consider a short set of questions.
The questions below are designed to help begin a conversation in communities about the kind of changes they want to see happen. We want to hear as many voices as possible, and in particular those who are all too often under represented. Visit our webpage to find information about how decisions about Scotland's public services are currently taken or contact us at democracymatters@gov.scot.
As the conversation builds, we'll share all that we hear so you can see for yourself the kind of changes people most want. As we understand how all of this could be made to work we will share different ideas at a series of events later in 2018. All who have contributed to the discussion will be invited to attend, and tell us what makes most sense for their community. This Dialogue will run until midsummer 2018.
We'll also be working with councils and a wide range of public services to understand what would make a positive difference to how they work locally. A public consultation on any new laws that are required will follow – probably next year. Please do get involved: you will be helping to strengthen democracy and make Scotland a better place for all.
We want to hear your voice and the voices of your friends and neighbours in a discussion about local communities deciding their own future.