Overview
This consultation explores the priorities for building a more circular economy – where products and materials are kept in high value use for as long as possible.  It builds on Scotland's progress in the zero waste and resource efficiency agendas, with a new focus on a much broader set of business and industry opportunities.
This matters because of the significant potential benefits:
to the economy – improving productivity, opening up new markets and improving resilience;
to the environment – cutting waste and carbon emissions; and
to communities – more, lower cost options to access the goods we need.
Our consultation sets out our ambition and seeks views on potential actions in the key areas of design, reuse, repair, remanufacture, recycling, and recovering value from biological resources.  It also puts forward proposals to support change in these areas through communications, skills and measuring progress.
Our proposals have been informed by a period of debate in Scotland in the first half of 2015.  Together with our partner agencies, we have published a number of reports for discussion, organised workshops and events with groups as diverse as biotechnology industry bodies and Young Scot, and most recently our social media campaign #makethingslast.  We also intend for our proposals to contribute to the EU's consideration of its own circular economy plans.
The following diagram, from the Ellen MacArthur Foundation sets out the concept for a circular economy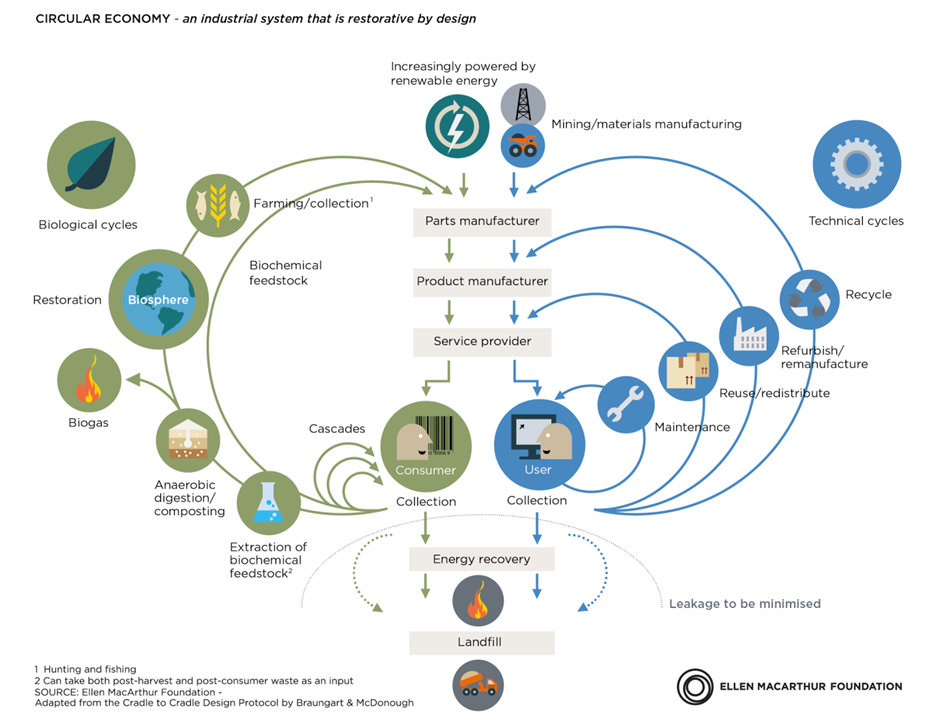 The left hand side of the diagram represents the flow of biological materials in a circular economy.  The right hand side of the diagram represents the flow of materials and products such as metals, plastics etc.  Similar principles apply to both sides of the diagram, and there are multiple interactions between them.
The most desirable actions in a circular economy are in the smallest, inner loops such as maintenance and reuse.  Value is lost as the loops become larger or leak from the system.
Why your views matter
Making things last: Consultation on creating a more circular economy in Scotland focuses on opportunities for economic benefits including those for specific industry sectors where there are sizable opportunities, or business growth through the adoption of more circular approaches.  The document includes a wide range of proposed measures and actions that cross a number of different aspects and sectors, for example it includes proposals on 'skills and training'  to ensure that the right skills and expertise are in place to enable and support a more circular economy.
We want your views to help shape Scotland's next steps towards a more circular economy.
What happens next
Following the closing date on the 16 October 2015, all responses will be analysed and considered along with any other available evidence to assist us on finalising Scotland's first Circular Economy Strategy.
If you provided permission for your response to be made public and after we have checked that it contains no potentially defamatory material, your response will be made available to the public via the Scottish government Library and on the Scottish Government consultation web pages.