Overview
The national strategic directions document for the National Forest Estate (NFE) was published in 2013 and lays out in broad terms the story of, nature of, and vision for the NFE. These ten refreshed district strategic plans are the next level down in our planning framework and set out at the district level how different parts of the estate will contribute to the national picture.
These plans aim to be strategic, and focus on outcomes from the management of the NFE, rather than organisational matters and regulatory processes within Forest Enterprise Scotland which are not within the scope of these plans. For example, all our forest management must be carried out to the requirements of the Government's UK Forestry Standard and is certified against the independent UK Woodland Assurance Standard, but this is not described in the plans.
The plans do not propose any major shift in the direction or balance of delivery from the NFE. However, in refreshing our plans we have sought to demonstrate more clearly how our regions link to our national strategic directions, and how the NFE is relevant to a wider audience. These new plans consequently have a greater emphasis on:
describing what the NFE currently delivers in each of the 10 districts, and
laying out our vision and commitments for managing the Estate in the ten districts in the future.
We have used a more map-based approach to illustrate context and priorities and we will continue to develop a more spatial approach to our plans in future.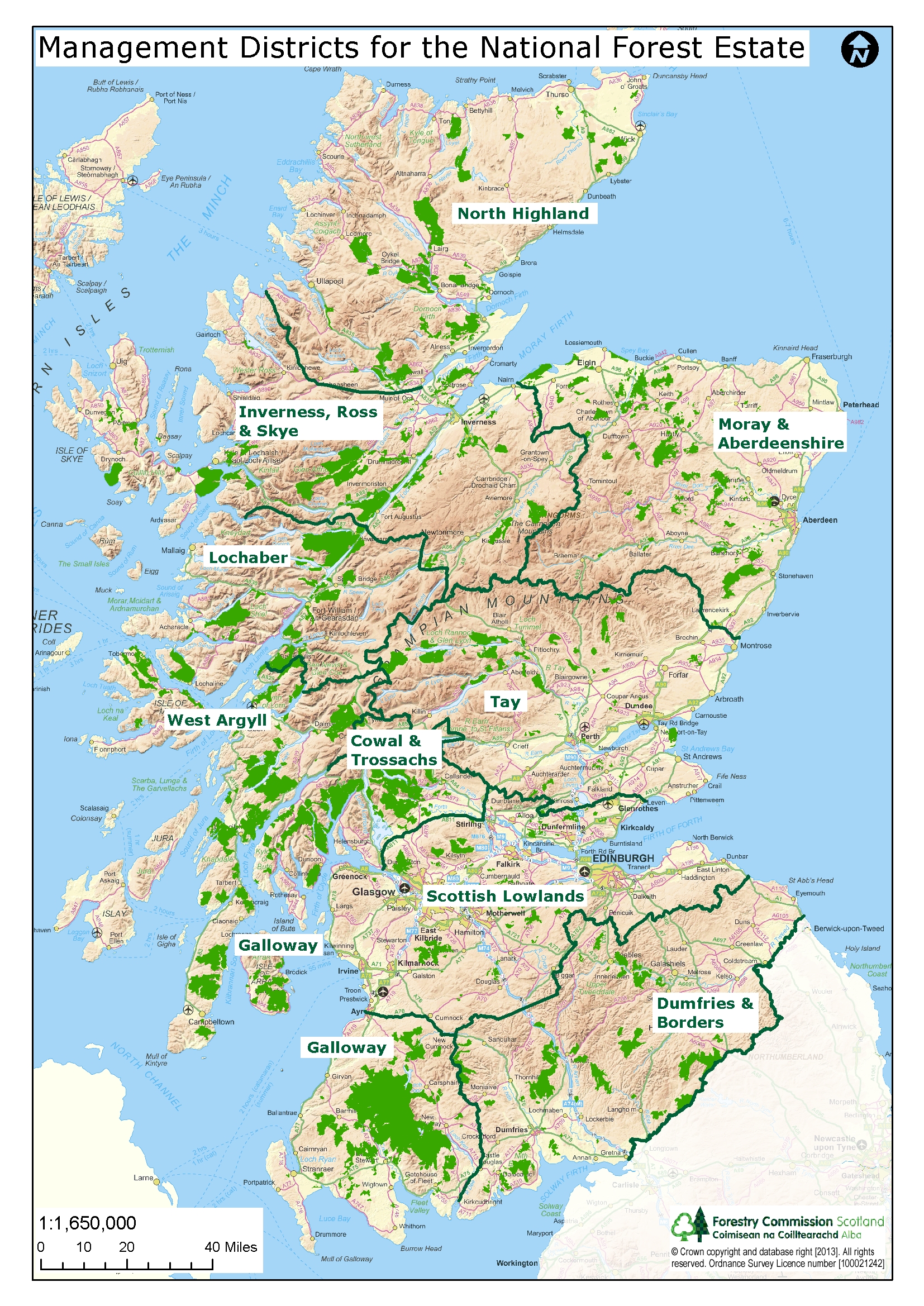 The way these strategic plans will be implemented is described and reported in greater detail through:
The development of each district strategic plan has been informed by an Equality Impact Assessments (EqA), the drafts of which are available with this consultation package.
A Strategic Environmental Assessment (SEA) has also been subitted to the statutory consultation authorities and the SEA is also available to download from this web portal. Any queries or feedback regarding the SEA should be directed to fes.dsp@forestry.gsi.gov.uk
Why We Are Consulting
Forest Enterprise Scotland (FES) manages the National Forest Estate through its ten districts and associated delivery teams.
This consultation seeks your views on the District Strategic Plans for management and delivery of benefits from Scotland's National Forest Estate (NFE).
In particular the objectives of this consultation are to get your views on:
the strategic priorities and management principles for managing the NFE at district level;
whether there are any strategic gaps or omissions in these plans.
Forestry Commission woodlands are independently certified as sustainably managed under the UK Woodland Assurance Standard. Involving people in developing management proposals affecting the NFE is an important part of maintaining this certification.
You are welcome to comment on the plans as a whole (e.g. if you are a national stakeholder) or on an individual plan (e.g. if you are a locally based stakeholder).
The consultation is aimed at:
people who use the public forest estate as part of their daily lives or have an interest in it;
people who do not use the estate but want to or who could potentially benefit from it;
people actively involved in the public forest estate (for example community woodland groups, volunteer groups);
minority groups with an interest in the estate (for example people from black and minority ethnic groups, disabled people);
potential investors who may be interested in business opportunities on the estate;
business partners including timber processors and contractors, leisure business providers using the estate, other businesses with an indirect stake (for example tourism businesses);
national and local government and key national and local stakeholders (for example Local Authorities, National Park Authorities);
national and local interest groups (for example Wildlife Trusts, Local Access Forums, Health Authorities, Community Councils);
national interest groups such as environmental and recreational non-governmental organisations and industry federations; and statutory advisers to Government


If you wish to complete the consultation offline rather than via this web portal please downlaod the feedback form below. Once completed please email to FES.DSP@forestry.gsi.gov.uk before the 31st July 2014.
What Happens Next
Consultation responses will be processed during June 2014 and will be taken into account for drafting a final version of the District Strategic Plans.
The final versions of the documents are due for publication in summer 2014.
We plan to post an anonymised summary of consultation responses on this web portal after the consultation. If you do not wish you response to be included in the published summary you can indicated this at the end of the consultation form.