Overview
The Scottish Government's vision is for a marine environment that is clean, healthy, safe, productive and diverse seas; managed to meet the long term needs of nature and people.
Scotland's Marine Protected Area (MPA) network is being developed to help safeguard our most important natural and cultural heritage features on the principle of sustainable use. By doing so we are protecting the natural goods and services they provide for current and future generations to enjoy.
Flapper skate (Dipturus intermedius) are a critically endangered species. They were historically abundant in the North-east Atlantic and widely distributed in the seas surrounding the British Isles, however its range has reduced significantly and catch rates declined throughout the 20th century. The flapper skate now only occurs in the northern North Sea, off Northern Ireland's north-east coast and off Scotland's north-west coast.
Now considered its own species, it was once thought that flapper skate and blue skate were the same species, called common skate. Flapper skate and blue skate (Dipturus batis) are now known as part of the common skate complex.
Little is known about flapper skate breeding grounds and breeding habits due to their rarity. Their eggs take around 18 months to hatch and are sensitive to disturbance from a number of marine activities during that time.
The purpose of this consultation is to seek your views on the designation of Red Rocks and Longay as a nature conservation Marine Protected Area as well as the associated Marine Conservation Order.
Under the Marine (Scotland) Act 2010, Scottish Ministers can designate a Marine Protected Area (MPA) on an urgent basis without publishing notice of their proposals or consulting those likely to be affected.
Red Rocks and Longay was designated as an MPA in this way in March 2021, following confirmation of the discovery of flapper skate nursery grounds. An urgent Marine Conservation Order (MCO) was put in place at the same time to manage fisheries activity. The boundary of the MPA was extended, and an associated urgent MCO was put in place, in December 2021 because a significant number of flapper skate eggs were discovered north of the original site.
The urgently designated and urgent MCO are still in place at Red Rocks and Longay. Scottish Ministers intend to designate the Red Rocks and Longay MPA as an MPA on a permanent basis and make an associated MCO and are therefore extending the urgent MCO by making an Urgent Continuation Order following the launch of this consultation.
The Urgent Continuation Order will extend the Urgent MCO until 10 March 2023. The consultation is proposing to remove the prohibition on diving from the list of prohibited activities in the draft MCO, to allow scallop diving and observational recreational diving. This activity will be removed from the urgent MCO as soon as is reasonably practicable, in order for the prohibitions not to remain in place for any longer than is necessary. A permit will still be required for scientific diving or surveys which would involve (for example) taking, touching or disturbance of flapper skate eggs.
Full proposals can be found in the consultation paper linked below.
Virtual information sessions are being held on 24th and 29th March during the consultation. Each drop-in session will last for 15-20 minutes where information can be provided on the current consultation, how to access information and respond. This is an opportunity to ask questions and get general information on the site and features to be protected, however consultation response should still be submitted through the page you are on at the moment. Further details and places can be booked through Eventbrite.
Location of Red Rocks and Longay Possible MPA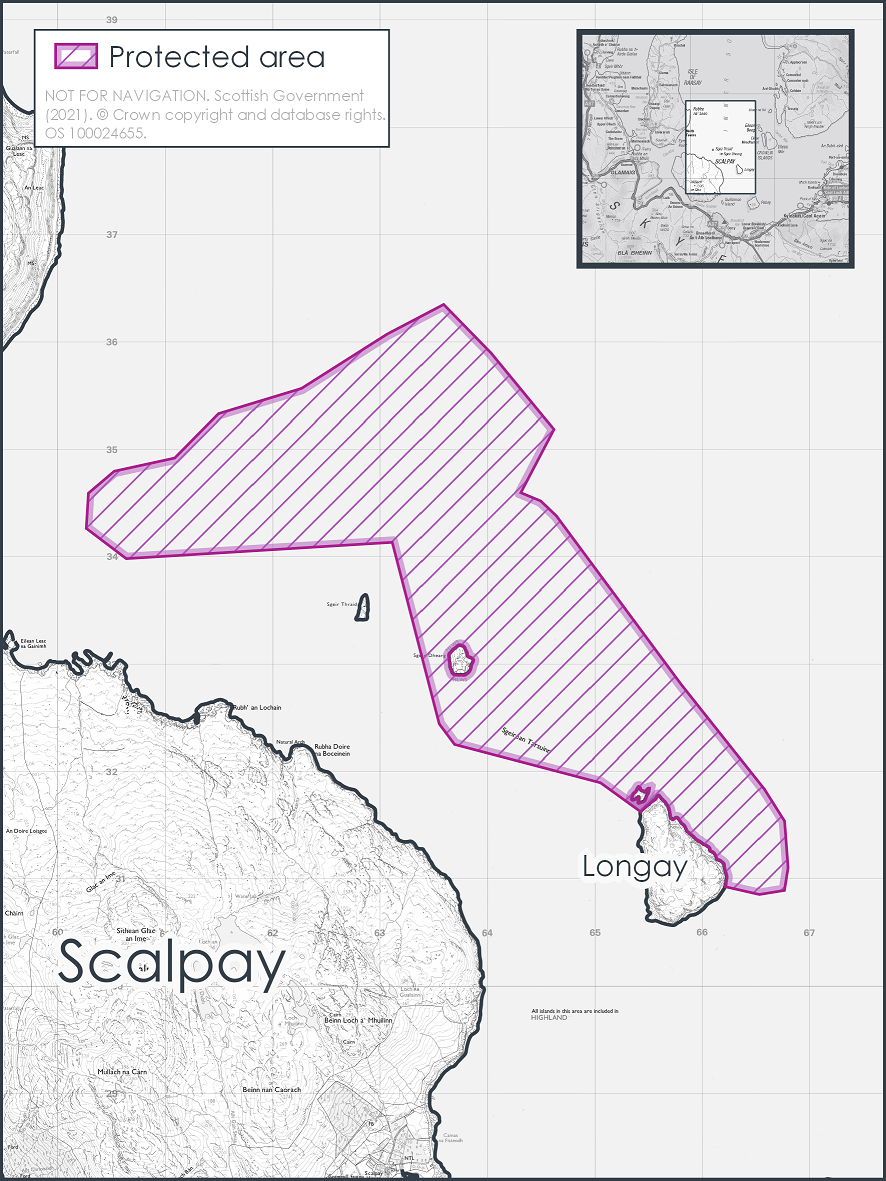 Why your views matter
This consultation seeks your views on the proposals to designate Red Rocks and Longay as a Marine Protected Area (MPA), in particular:
1. Support for designating Red Rocks and Longay as a nature conservation MPA including the list of protected features
2. The scientific case for designation of the site
3. The draft conservation and management advice for the site
4. The draft Marine Conservation Order (MCO) which sets out the proposed management measures
5. The potential environmental and socio-economic impacts of the site
6. The potential impacts to island communities of the site
This page serves as notice for the following purposes:
Under section 75 of the Marine (Scotland) Act 2010 that Scottish Ministers propose to designate Red Rocks and Longay as a nature conservation Marine Protected Area (MPA) on a permanent basis.
Under sections 87(6) and (7) and 88 (7) of the Marine (Scotland) Act 2010 that Scottish Ministers propose to make an associated Marine Conservation Order to further the stated conservation objectives for the proposed Red Rocks and Longay MPA.
In accordance with section sections 75 (2) and 87(7)(b) of the Marine (Scotland) Act 2010, the draft orders and a map identifying the area's boundaries are available for inspection on this page under Related Documents. Alternatively, a copy of the draft Orders and map can also be requested by writing to:
Marine Conservation,
Area 1B North,
Victoria Quay,
Edinburgh,
EH6 6QQ
or by email to marine_conservation@gov.scot.
Further information is available from the Scottish Government's  Marine Environment: Marine Protected Areas webpage.
What happens next
Where respondents have given permission for their response to be made public, and after we have checked that they contain no potentially defamatory material, responses will be made available to the public on this page. 
Following the closing date, all responses will be analysed and considered along with any other available evidence to help us. Responses will be published where we have been given permission to do so. An analysis report will also be made available.