Female genital mutilation (FGM) involves procedures which include the partial or total removal of the external female genital organs for cultural or other nontherapeutic reasons.
FGM has been a specific criminal offence in the UK since the passage of the Prohibition of Female Circumcision Act 1985 ("the 1985 Act"). In England, Wales and Northern Ireland, the Female Genital Mutilation Act 2003 ("the 2003 Act") repealed and re-enacted the provisions of the 1985 Act, gave them extra-territorial effect and increased the maximum penalty for FGM. The Female Genital Mutilation (Scotland) Act 2005 ("the 2005 Act") passed by the Scottish Parliament, repealed and re-enacted for Scotland the provisions of the 1985 Act, gave extra-territorial effect to those provisions and increased the maximum penalty for FGM in Scotland from 5 to 14 years' imprisonment. Further, it made additional forms of FGM unlawful, and allowed the Scottish Ministers to modify the procedures which are offences and added offences under the Act to Schedule 1 to the Criminal Procedure (Scotland) Act 1995 ("the 1995 Act") (offences against children under 17 to which special provisions apply). Further information on the 2005 Act is at Annex B.
The Serious Crime Act 2015 is a UK wide act, and introduced a number of additional provisions in relation to FGM, only one of which applies to Scotland (section 70).
These are as follows: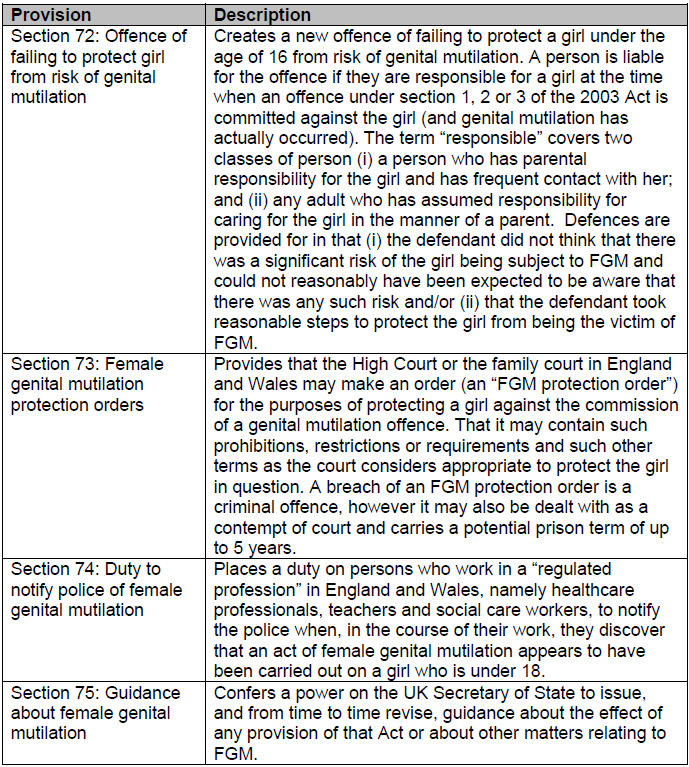 More detail on these provisions can be found in the relevant explanatory notes for the Serious Crime Act 2015.
At the time of the Act's passage, the Scottish Government and the UK Government agreed a legislative consent motion which amended the 2005 Act in respect of section 70. The Scottish Government indicated that it would consider further whether section 71 to 75 were appropriate for introduction in Scotland. The Scottish Government conducted some targeted stakeholder engagement in 2016, which this paper goes into more detail in Annex A.
Following that period of engagement, this formal public consultation seeks views on these provisions, as well as whether there are further steps we should be considering that help to strengthen protection for those at risk of FGM.